About A Day With the King
A Day With the King is a children's program produced by 3ABN Australia Inc. It has been developed to teach children about the Sabbath and to lead them through the book of Genesis in season one, and the rest of the Bible in later seasons. Hosted by Natalee McLean (Aunty Nat) and Cecily Harker (Aunty Cecily), this program targets six to twelve year olds, though people of any age will enjoy it. It includes segments such as singing with Pr Rick Ferret, and a story time with Dr John Hammond. There is also a Bible Study time where the children can learn more about God. Each segment is detailed below.
Singing with Pr Rick & Braedan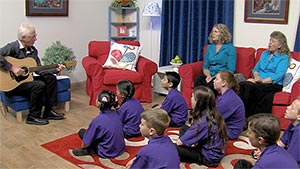 Pr Rick Ferret (seasons 1 to 3) and Braedan Entermann (season 4) lead us in singing each week. You can join in as we sing the songs because the words are on the screen. The songs include old favourites and less known songs, which the children can learn, such as:
This is the Day
Remember the Sabbath
Books of the Bible
Rick Ferret is a Senior Lecturer in the Faculty of Theology at Avondale College, Cooranbong, NSW, Australia. Braedan Entermann is a Bible Worker in Maitland, NSW, Australia.
Stories with Dr John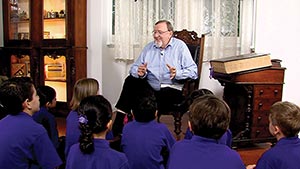 Dr John Hammond leads us through stories about the history of the Seventh-day Adventist Church in Australia, including the life of Ellen White.
During seasons one and two, these stories are told in the dining room of Ellen White's former Australian home, Sunnyside, which is located in Cooranbong, NSW. In seasons 3 and 4, he tells stories in his study. Stories include:
Tiglath Pileser
The Conleys
The Big Bible
Growing Peaches
and more!
John Hammond is a retired educator and former Director of Adventist Schools in Australia. He is also a well-known story teller.
Bible Study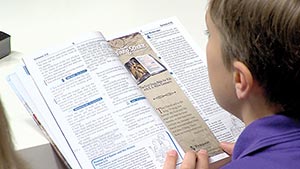 Children are welcome to get their Bibles and join us in our Bible study time. In the first season, we go through the book of Genesis, and cover the main stories, from Creation to Joseph in Egypt. This is followed by season two that covers the Exodus, then season 3 that continues through to King David.
Daily study guides are available on this website so that you can study the topic through the week. To download them, simply click the "Study Guides" link in the menu and select the one that you need.