Welcome to the A Day With the King Website!
Hello! This is the official website for 3ABN Australia's A Day With the King. Here you can download the weekly study guides that are used on the program, and visit our favourite bunny rabbit, Teddy!
We hope you can join Aunty Nat, Aunty Cecily, Uncle Daniel, Aunty Leah, Pr Rick, Braedan, Dr John, and the children each week and open the Sabbath with us! You can watch us on 3ABN International (online) each Friday at 3:30pm Australian Eastern Standard Time (GMT+10), and again on Sabbath morning at 7:30am AEST. For other time zones and to find out which program is on each week, please see the schedule on the 3ABN Australia website.
Missed an episode? You can catch-up on the last six episodes on the A Day With the King page on the 3ABN Australia website.
To find out more about A Day With the King, please see our About page.
Season 6 Starts January 27, 2023!
Tune in for exiting new episodes where we learn scripture songs and continue studying the Bible by reviewing the prophecies of Jesus, His miraculous birth, and the start of His ministry!
Season 5 Starts October 26, 2018!
Join Uncle Daniel and Aunty Leah as we complete the Old Testament with season 5 of A Day With the King! We go from the Babylonian exile through to the rebuilding of Jerusalem.
Now Airing on 3ABN Kids Network!
From February 2018, A Day With the King airs on 3ABN Kids Network! For air times and more information about the 3ABN Kids Network, visit their website!
Season 1 to 5 DVDs are now available!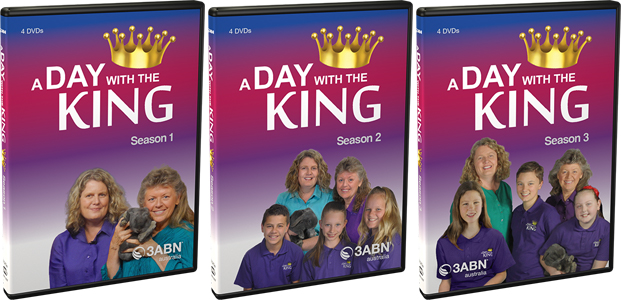 Relive all the moments from A Day With the King seasons 1 to 5, on your very own copies of these 4-disc DVD sets! Open the Sabbath and learn more about God together with us as we sing songs, listen to stories, and study the Bible. They are available for a suggested donation of just AUD$33!
The DVDs include all 13 episodes from each season, and run for approximately 6.5 hours.
You may order these DVD set directly through our online store!